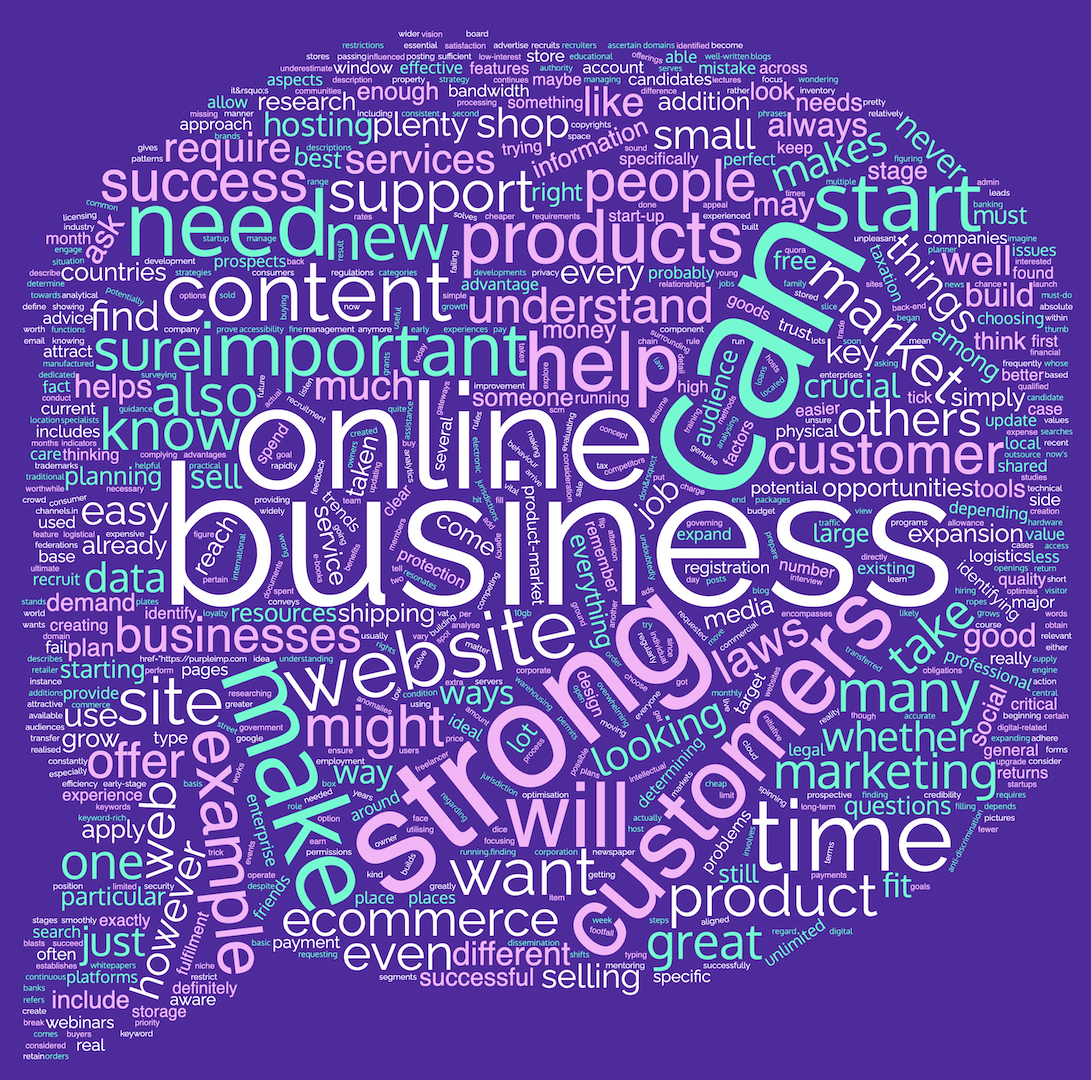 Most people who are just starting out in business make the mistake of looking at products first, and markets second. This approach works fine if you already know exactly what you want to sell and where it will go, but most businesses fail because they never figure out how to reach customers in an effective manner.

The trick is to start with a market. It's a good idea to look around and find people who, to put it simply, want what you are going to have when your business is up and running. Finding a market for your goods or services isn't always easy, of course, but this stage of developments is definitely always crucial.

Once you've found a real need, you can start researching how others are filling that need. Are there lots of competitors? How much money do they make? Where are they failing? What are they doing wrong? These are all good places to start. You can even use free tools like Google Trends and Keyword Planner to help identify words and phrases that people are typing into the search box. Then you can optimise your site for those terms. Once you've identified all that's needed, you can move on towards the ultimate goal of creating a successful online business.

Determining market fit is an absolute must-do

As an early-stage retailer looking to launch an online business, you're probably wondering how to go about choosing what to sell and what services to offer. You want to make sure you've got something that resonates with your target market, and that your offerings are aligned with your business goals. But where do you start?

Product-market fit is vital for how successful a start-up can become. This concept refers to whether there is enough demand for a particular product or service to make it worthwhile to start selling it. If there are too many competing products or services on the market, it won't be easy to succeed.

In short, product-market fit describes whether there is enough demand to support a business. It's important because if no one wants your product, you'll never be able to build up a large customer base.
The best way to determine if there is sufficient demand for a product or service is to ask yourself some key questions. What makes your product different? Why does someone need it? How much money could you potentially earn if you sold it? These questions help you understand why someone might buy your product or service, and what problems it solves.

Make sure the logistics are in place for business success

Logistics is one of the most important aspects of running an online shop, because it encompasses everything from managing inventory to shipping and warehousing. In fact, back-end supply chain management (SCM) is a critical component of every business today, whether it's a small online shop or a large commercial corporation.

In many cases, businesses are able to outsource some of their logistical needs because there is no physical location where goods can be stored. However, even though ecommerce doesn't require a physical space, it still requires plenty of other resources to keep things moving smoothly. For example, you'll need to pay attention to order fulfilment, customer support, payment processing, returns and more.

As your business grows, the satisfaction of your customers will be greatly influenced by the efficiency of your ecommerce fulfilment strategy. If someone orders an item from your online store, for example, and it doesn't arrive on time and in perfect condition, there is every chance that that particular customer will never return. He or she could even tell their friends all about the unpleasant experience as well.

Obtain, and retain, all the support you can get

When you create an online business, it's easy to imagine you're on your own at the beginning, but you really don't have to be. A range of support options could be in place, and any or all of them may prove crucial to the future success of your initiative. The best way to find out more is to do some research on the web.

Depending on where you live, there could be small business grants available from either central government or your local authority, for example. Low-interest loans may also be an option. In addition, there may be business federations that offer financial help for those starting a new online enterprises.

It's important also to remember that support comes in other forms as well. Many banks offer high quality advice on business start-ups, including identifying professional resources, educational platforms and more. It's worth looking to the web for helpful webinars and online lectures that could apply to your particular situation.

There are a number of factors you need to take into consideration when starting a new business, and free advice and guidance can be crucial. Among the issues you might want to explore in greater detail are licensing and permits, planning permissions, business rates, banking, taxation, training, mentoring and trade events.

Recruitment is often the key to success

Trying to keep all the plates spinning with a new online business can be overwhelming, so it's important to recruit help when you need it. It's even more important, however, to recruit the right kind of help. You need new additions to the team who can hit the ground running, because you simply won't have time to constantly be showing them the ropes.

Identifying exactly what you need right from the start is a major advantage. Job descriptions are important documents because they help define the job, describe the essential functions of the position and provide the basis for evaluating candidates. A well-written job description helps recruiters understand what it takes to successfully fill the role.

Social media platforms are great places to advertise your job openings. They offer several advantages over traditional methods such as newspaper ads, because they allow you to reach a wider audience. And since most people spend time on social media every day, posting your jobs there gives you access to many qualified candidates.

In the early stages of an online start-up, you may only require one or maybe two new recruits. Despite this low number, great care should still be taken in the hiring process. Prepare to ask all the right questions at the interview stage to make sure the candidate is an ideal fit for your vision.

Use your website as your shop window to the world

Whether you are a freelancer, owner of a hardware store, or run another type of small business, having a great website is critical to your success. Basic websites can be built by the individual for a small expense, and there are plenty of online website building resources to be found online.

If you'd really like to have a site that stands out from the crowd, however, it would be better to engage the services of an experienced digital agency. Your website is your shop window, and as is the case with a real shop in the high street you need to make sure there's plenty of footfall passing by.

A professional website design involves so much more than the creation of a few attractive pages for customers to look at. It will take into account search engine optimisation, for example, and as a result will feature keyword-rich content that helps the site to perform well in online searches.

Remember, the quality of the website can make or break a start-up, especially in those crucial first months. Making sure you have design specialists on board could be the most important key in the success of your enterprise, so take the necessary steps to ensure your website is more than just a pretty face.

Never underestimate the value of content marketing

Content marketing is the development and dissemination of relevant, useful content that helps prospects understand and solve problems. This content includes blogs, e-books, whitepapers, case studies, webinars, email blasts and social media posts.

When it's done well, this content conveys value and makes it clear that the company values the people to whose needs it serves. Consistent use of content marketing establishes trust and credibility with audiences and builds long-term relationships with your prospective and current customers.

Content marketing is one of the most effective ways to reach customers and prospects across multiple channels. In recent years, there have been some major shifts in how businesses approach content marketing. For example, many large brands began focusing on customer experience rather than just selling products. They realised that providing great experiences could help them build trust and loyalty among consumers.

The good news is that there are still plenty of opportunities for small businesses to take advantage of content marketing. Whether you're looking to grow your audience or simply attract more leads, you should be aware of the potential strategies that are open to you. And if you're unsure of their benefits, now would be the perfect time to do some research on the matter.

Web hosting can make a genuine difference to your business

The type of hosting you choose depends on what you want to do with your site. If you're looking for something simple, such as a blog, shared hosting might be enough. However, if you are planning on selling products online, having dedicated servers will make everything easier.

There are many factors to consider when choosing a web host. For instance, some hosts offer unlimited bandwidth while others limit it based on the amount of data transferred. Some plans include free domain registration while others charge extra. You'll also need to decide whether you want to use cPanel or WHM/cPanel.

A good rule of thumb is that the less features you require, the cheaper the price. This is because there are fewer things to manage. On the flip side, the more features you require, the more expensive the plan.
For example, a cheap shared hosting plan might come with 10GB of storage, 50 GB of monthly traffic allowance and 300 GB of transfer per month. While this might sound like a lot, it is actually quite limited.

If you are planning on selling a product online, however, you will definitely need a better plan. These packages usually include unlimited bandwidth, storage and domains. They also often provide priority support and 24/7 technical assistance. You must also take into account your budget. Hosting prices vary greatly depending on where you live and what you pay for internet access.

Knowing your customers will help to build success

Once you've created the business, taken care of all the admin and manufactured your actual products, who will you sell them to? If you want to know what makes people tick, you must understand them. But figuring out who your ideal customer is isn't always easy. In fact, most companies don't even start there. They assume they already know, and that's why they focus on creating products and services that appeal to everyone.

But that can be a mistake. You might think that you're just trying to make things easier for yourself, but you'll end up missing out on some great opportunities. So think about practical ways to research your potential customers.

The best way to find out what they want is to ask them directly. This could mean asking existing customers, getting feedback from friends and family members, or surveying online communities like Quora. You probably already know a lot about your current market, but if you haven't taken the time to learn everything you can about your target audience, now's the time to start.

Using web analytical tools can be so important in regard to users of your website. This can help you build very clear pictures of visitor behaviour, of where they are located and which keywords they used when finding your site. In addition, you'll also ascertain which pages on your site they used, and how much time they spent on each one.

Be aware of the legal side of things

Ecommerce is a relatively young industry, but one that continues to grow rapidly. With such growth, it's important that owners of online businesses understand the legal requirements that apply to them.
While some of the rules governing ecommerce are common across different countries, others vary widely depending on where you operate. For example, certain countries require VAT registration while others do not. Some jurisdictions restrict what products you can sell, while others don't. And some countries have specific regulations regarding shipping, returns and customer support.

In addition to complying with the laws of the jurisdiction in which you conduct your business, many companies must also adhere to the general corporate law and local and international laws that pertain specifically to ecommerce. These include such things as tax obligations, intellectual property rights protection, consumer protection, anti-discrimination laws and even employment laws.

As well as understanding the general laws surrounding commerce, there are also specific digital-related laws that apply to ecommerce stores. This includes issues like web accessibility, data privacy, electronic payments and security. Among the aspects that need to be considered are taxation, payment gateways, trademarks, shipping restrictions and copyrights. As always, if you're not sure, ask around for accurate information.

Know when (and how) to expand the business

If your enterprise is a great success, there will undoubtedly come a time when you start thinking about expansion. But how do you know when it's time to expand your online business? There will be some indicators to look out for at this stage.

If your customers have requested several times that you add more products or offer different products, for example, then it might be time for an expansion. If you don't take action soon, people won't come back to your site anymore. So, make sure you listen to what your customers are requesting.

Your website can be key during expansion. As much as possible, try to update your site every week or once a month. If you find yourself updating less frequently, then maybe it's time for an upgrade. A lot of businesses fail because they don't regularly update their sites. They think that just having a website makes them successful. In reality, there needs to be continuous improvement.

If you want to find new ways to grow your business, it helps to understand what makes your customers tick. You can do that by analysing your customer base and determining how and where they spend money. This information can help you identify new opportunities in your niche.

You can use data analytics tools to analyse your information. These programs allow you to slice and dice your data into different categories and view trends over time. They make it easy to spot patterns and anomalies within your data. Once you know what segments of your market are buying your product, you can start thinking about ways to attract those buyers. This way, you're expanding your business specifically for those new and existing customers who are most likely to be interested in what you have for sale.